Philadelphia's Foremost Personal Injury & Criminal Attorneys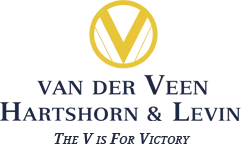 van der Veen, Hartshorn and Levin is widely recognized for maintaining a uniquely broad practice covering both personal injury and criminal matters. Catering to clients facing criminal charges, and those who have been injured through no fault of their own. We are the only law firm that you and your family need, no matter what civil or criminal matter you may encounter. Our firm also serves small businesses, guiding business owners through common legal issues. Whatever your legal needs, look no further for staunch legal representation and compassionate advocacy.

Our attorneys are licensed to practice in both State and Federal Courts in Pennsylvania, New Jersey and Illinois. As the firm's founder, Attorney van der Veen has consistently been recognized in Pennsylvania Super Lawyers and the attorneys on the team are also highly lauded and have had numerous accolades bestowed on them over the course of their careers. Additionally, each attorney in the firm is committed to the broader community and deeply engaged in meaningful charitable and community causes.
Contact Our Philadelphia Criminal Attorneys Today
For additional information
Call 215-546-1000 or visit www.mtvlaw.com
1219 Spruce Street
Philadelphia PA 19107
van der Veen Hartshorn & Levin was experiencing serious Phone Service issues and were not getting the timely support they needed from their Service Provider. They were referred to the experts at USA Phone by their Managed IT Partner. An onsite meeting was scheduled to discuss all available Service Options. They decided to procced with the installation of USA Phone's VoIP Service Unlimited Plan. Which includes Unlimited Usage, Mobile App Service, 5 Nodes of Active Failover Redundancy, Real Time Call Detail Reporting plus Yealink Desktop and Conference Room Phones, Router Firewall, POE Switch and many other beneficial Features. They were also able to eliminate a very high Service Provider monthly cost while saving $30,000 over 5 years. In addition to upgrading their Internet Service for less money than they were currently spending. We are very grateful to have van der Veen Hartshorn & Levin as a new client and are looking forward to serving their Law Firm for many years to come.
"The transition from our old vendor to USA phones was extremely efficient and we are beyond satisfied with USA Phone. They held our hands and guided us every step of the way. I have truly never felt so comfortable with the service and knowledge of everyone we encountered at this company. USA Phone made everything so simple from transferring our internet service, porting our phone lines as well as installing our new phones. The interruption to our business day was minimal and we are truly grateful for the service they provided. We would highly recommend USA Phone to anyone seeking a new phone vendor. We are looking forward to a long business relationship with USA Phone."
Marion Murphy / Chief Financial Officer
FEATURED VOIP SERVICE /CALL DETAIL REPORTING
This Feature allows a Law Firm to pull Real Time or setup Scheduled Reports for All In / Outbound Calling by Extension providing accurate time based billing information for each client.
Founded in 1981, USA Phone has been helping businesses across the country save money while enhancing their communications utilizing the most current technologies.