VoIP (QOS) Routers and Firewalls
Secure and reliable delivery of IP based voice, video, & data
Peplink Balance 30 LTE Firewall
Affordable Multi-WAN Router, with Embedded 4G LTE
200Mbps Routing Throughput
LAN: 4-Port GbE Switch
Multi-WAN Router (WAN, LTE, USB) for SOHO
LTE Antennas Included. Pre-activated SIM Required
WAN Ports: 2x FE, 1x Embedded 4G LTE Modem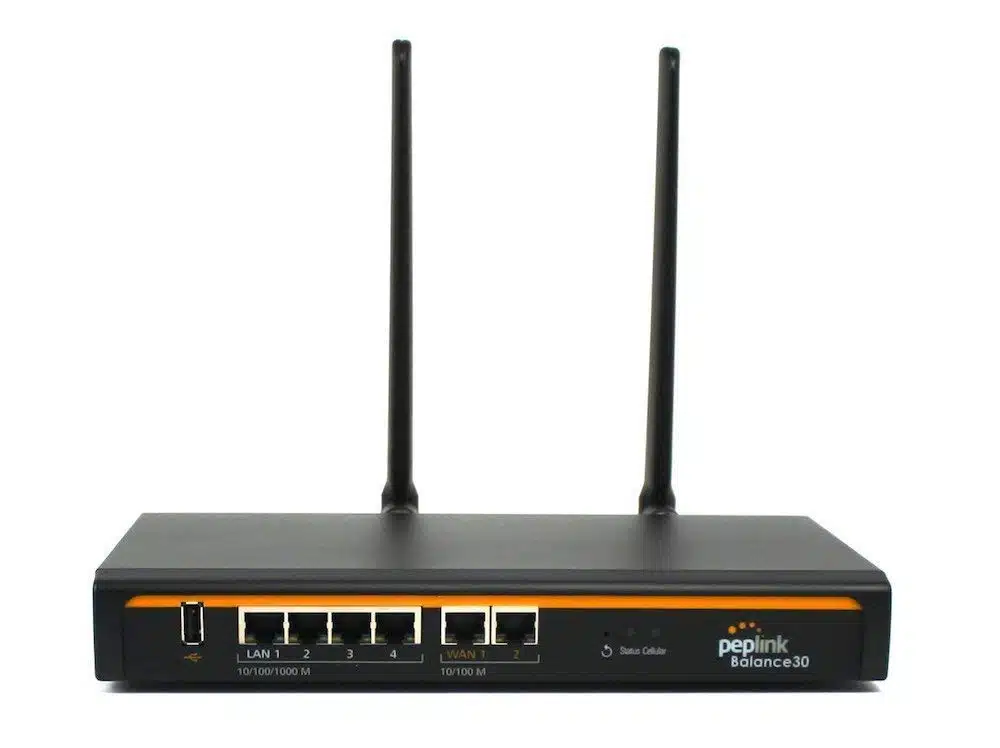 Benefits:
The Peplink Balance 30 LTE has Load Balancing/Failover, Bandwith Usage Monitoring, and QoS (Quality of Service) for VoIP phone systems and e-commerce.
Key Features:
LAN ports: 4 (GbE)
WAN ports: 2 (GbE)
USB WAN modem port: 1
1x 4G LTE port
Dimensions: 1.38″ x 10.2″ x 5.24″
Weight: 2.2 lbs
Power Requirements: Universal Input 100V to 240V AC
Power Consumption: 15W
Recommended users: 1-60
Router throughput: 200Mbps
Support for PPPoE, Static IP, DHCP
WAN Link Health Check
PING
DNS Lookup
HTTP
Bandwidth Allowance Monitor
IPv6 Support
USB 4G/3G Modem Support
Extended DHCP Option
DHCP Reservation
Support for Dynamic DNS services
changeip.com
dyndns.org
no-ip.org
tzo.com
DNS-O-Matic
DNS Proxy for LAN Clients
Load Balancing
Intelligent Failover
Session Persistence
Per-Service Load Distribution
Multiple Algorithms:
Weighted
Enforced
Persistence
Priority
Overflow
Complete VPN Solution
PPTP VPN Server
Recommended PPTP VPN Users: 15
IPsec VPN (Network-to-Network)
Number of IPsec Tunnels: 2
IPsec only supports connection with Cisco, Juniper, Peplink or Pepwave devices
Networking
NAT and IP Forwarding
Static Routes
Port Forwarding
Many to One, One to One NAT
NAP Pool
SIP ALG, H.323 ALG
UPnP, NAT-PMP
WINS Server
DNS
Built-in Authoritative DNS 7
Support for A, CNAME, NS, MX, PTR, SOA, SRV, TXT records
Security
DoS Prevention
Stateful Firewall
Device Management
Web Administrative Interface
Command Line Interface
InControl Cloud Management
Email Notfication
Active Client & Session Lists
Bandwidth Usage Statistics
Syslog
SNMP v1, v2c and v3
Support and Warranty
1-Year Standard Warranty
1-Year Firmware Upgrade
Certifications
CE
RoHS
FCC
Edgemarc 2900 Series Session Border Controller
The EdgeMarc 2900 series of Intelligent Edge devices enables enterprises and service providers to future-proof their SIP trunking and Unified Communications deployments, providing a highly flexible, scalable, and secure platform for service delivery and ongoing service quality management.
The 2900e offers dual Ethernet and Optical WAN connections to extend the capabilities of Edgewater's Network Edge Orchestration platform, supporting WAN connections up to 1 Gbps and 300 concurrent calls.
Future products in the 2900 series of Intelligent Edge devices include the EdgeMarc 2900a. The EdgeMarc 2900a adds both outbound and inbound analog line (FXO/FXS) support for applications such as PSTN fail-over, fax, and overhead paging.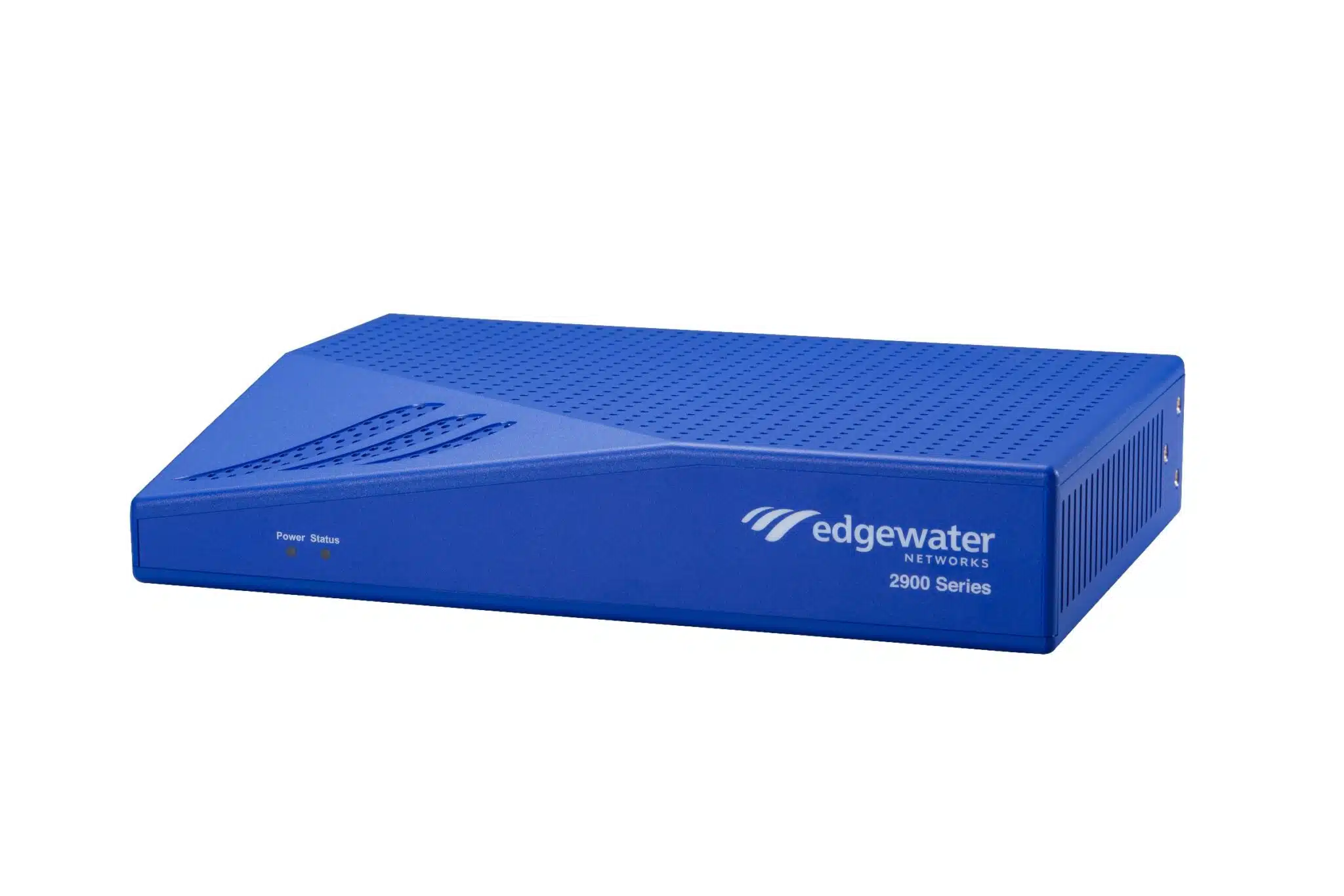 Benefits:
Scalable configuration based on session license and field upgradeable as business need grows
Combined deployment of EdgeView Service Control Center and EdgeMarc Intelligent Edge greatly reduces operational expenses and increases customer satisfaction
Supports data rates up to 1 Gb/s
Available as a VM for KVM, VMware and Hyper-V
Key Features:
ALG/B2BUA and NAT for SIP
MOS Scoring and Call Quality Monitoring
Call Statistics, Quality Measurements and Alarms
QoS Traffic Shaping, Prioritization, Guaranteed Bandwidth and CAC
DHCP and Local FTP / TFTP Server
VoIP Aware Firewall
Stateful Packet Inspection (SPI)
TLS, IPSec and VPN
IEEE 802.1X Supplicant / Client to Request Network Access
Management through Edgewater EdgeView Systems
Management through Web GUI, CLI and SNMP
High Availability
Survivable Access
WAN Link Redundancy
Multi GigE WAN and LAN Ports
Edgemarc 4700 Session Border Controller
The EdgeMarc 4700 Enterprise Session Border Controller Series provides the
demarcation point for real time flow control and traffic management for enterprise applications between IP networks. It is the ideal solution for today's high capacity Broadband Access Networks. It combines advanced real time, high availability, management, networking, security features, and capabilities for voice and data services into a single, easy to use enterprise session border controller. This Unit delivers superior performance for multiple simultaneous services including voice, voice quality monitoring and traffic
management with high capacity data throughput. It is the ideal solution for
small and medium businesses and service provider managed services such as SIP
Trunking and Hosted IP Telephony.
Additional Features include the enabling of a Single Static IP Address to be used for multiple IP Phones or IADs (SIP). Provides a protocol fix for interoperability via header manipulation rules. The EdgeMarc 4700 Enterprise Session Border Controller Series prioritizes voice over data traffic to ensure the highest voice call quality while allowing routed data traffic to burst up to full line rate when possible while providing Call Admission Control to ensure the highest quality voice calls. A Voice and Data Firewall is available using a stateful packet inspection for data and tracks.
Benefits:
Reduce telecom costs for SIP Trunking and IP Telephony Business Services
High Performance, Compact, Secure and Integrated VoIP Platform for SMB Applications
Scalable Platform supporting up to 100 Concurrent Calls and 1,000 Registered Devices
Scalable configuration based on Session License and field upgradeable as business need grows
Connect Branch / Remote Offices via Service VPN tunnels
Converged Solution for Voice and Data Services
Continuous Connectivity through High Availability, Link Redundancy, and Survivability Access
Supports IPv4 and IPv6
Key Features:
ALG/B2BUA and NAT for SIP
MOS Scoring and Call Quality Monitoring
Call Statistics, Quality Measurements and Alarms
QoS Traffic Shaping, Prioritization, Guaranteed Bandwidth and CAC
DHCP and Local FTP / TFTP Server
VoIP Aware Firewall
Stateful Packet Inspection (SPI)
TLS, IPSec and VPN
IEEE 802.1X Supplicant / Client to Request Network Access
Management through Edgewater EdgeView Systems
Management through Web GUI, CLI and SNMP
High Availability
Survivable Access
WAN Link Redundancy
Multi GigE WAN and LAN Ports