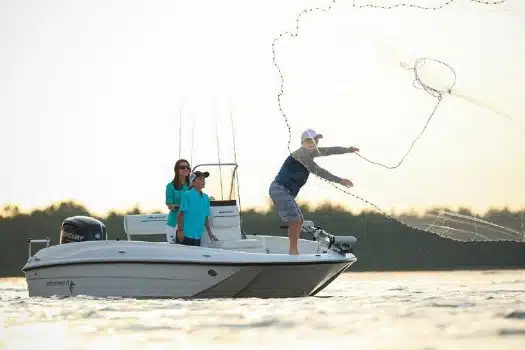 In 1939 Bill Parsons and his brother Herb traded their interest in two cars for a down payment on a sandpit located along the riverfront. The riverfront was being dredged and the brothers had the foresight to see the potential of the future boating needs of the area. Dredge Harbor Marina was on its way to becoming the largest full service marina in the Delaware Valley.
Today the Marina is still a family business run by Tammy and her brother Bill with the help of their children Lauren, Stacy, William and Robert. Housing a 27,000 square foot showroom, 275 in water slips and a 150 boat dry stack storage building. Dredge Harbor Boat Center has grown from a sandpit to a 110 acre marine facility selling thousands of pleasure boats to generations of boaters in the greater Philadelphia area.
Tammy Savidge & Bill Parsons / Owners were looking for a way to replace their aging Premise Based Phone System that was no longer providing reliable service for their business. They were referred to the experts at USAPhone.com. Upon reviewing the Carrier & Internet a Cost Effective Service Solution was offered. This included the elimination most of the Carrier Services and Billing along with the Installation of VoIP Service that resolved all of their previous Premise Based Phone System Service Issues. Tammy states, "The installation of VoIP Benefits Service delivered Functionality & Services that allows us to operate way more efficiently. We have experienced tremendous customer service throughout the conversion process. It's great to now have the ability to better manage all of our day to day operations, while offering a better calling experience to our staff and all of our clients".
For more information regarding New or Used Boats & Repairs
Call us at 856-461-1194 or visit www.dredgeharbor.com
67 Saint Mihiel Drive
Delran NJ 08075
Focus on the best solution for your company
Don't let price get in the way of your decision
We will match or beat any competitor's price
Founded by Gregory Gutos in 1981, USA Phone is a Communications Consulting, Installation, Sales and Service Company headquartered in Cherry Hill NJ. Our experts specialize in providing Carrier & Internet Services along with PBX & Hosted VoIP PBX Phone Solutions to businesses in the SMB & Enterprise Level Markets.