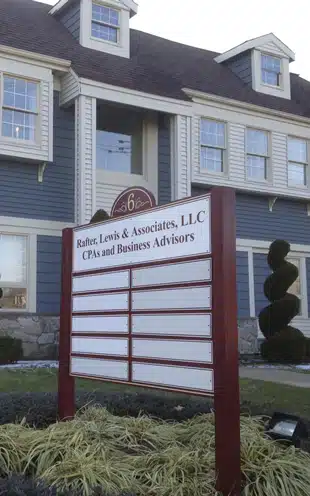 Rafter Lewis and Associates LLC is located in Haddon Heights NJ. We offer experienced & Professional Accounting for a wide range of commercial enterprises, including, but not limited to, manufacturing, publishing, engineering, construction contractors, wholesale distributors, health care practices, printers, attorneys, architects, retail establishments, restaurants and other service companies. The firm's clients also include individuals and families as well as nonprofit organizations.
Our services go beyond the accounting firm's traditional role of financial statement and tax return preparation. We believe an accountant must be a Trusted Advisor, able to help our clients anticipate and respond to changes in the economy, industry, financial reporting rules, as well as the tax laws. We act as a "sounding board" to our clients, helping to evaluate major strategic, financial and tax planning decisions. We realize that for Small Business Enterprises, the financial and tax strategies implemented for their business will also affect them personally. This is why our capability to provide insight and advice on all aspects of our client's financial situation is so important. It means that they will have the professionals with the most knowledge about their complete financial picture providing these critical recommendations.
Our firm is dedicated to meeting the professional needs of Small Business Enterprises & Individuals
For more information contact us at 856-546-1890 or visit www.rafterlewiscpas.com
6 White Horse Pike / Suite 1A
Haddon Heights NJ 08035
Len Lewis was looking for a way to replace his aging Premise Based Phone System that was no longer providing reliable service for their growing business. He was referred to the experts at USAPhone.com. Upon reviewing the Carrier & Internet Services a Cost Effective Service Solution was offered. This included the elimination most of the Carrier Services and Billing Consolidation along with the Installation of VoIP Service that resolved all of their previous Premise Based Phone System Service Issues. Len states, "The installation of Hosted IP Solution delivered Benefits, Functionality and Services that allows us to operate way more efficiently. We have experienced tremendous customer service throughout the conversion process. It's great to now have the ability to better manage all of our day to day operations, while offering a better calling experience to our staff and all of our clients".
Focus on the best solution for your company
Don't let price get in the way of your decision
We will match or beat any competitor's price
Founded by Gregory Gutos in 1981, USA Phone is a Communications Consulting, Installation, Sales and Service Company headquartered in Cherry Hill NJ. Our experts specialize in providing Carrier & Internet Services along with PBX & Hosted VoIP PBX Phone Solutions to businesses in the SMB & Enterprise Level Markets.